Website Terms of Use
About our Terms
These Terms explain how you may use this website,

t

estevolve

.com

and all associate pages (the

Site

) which is provided by us free of charge.

You should read these Terms carefully before using the Site.

By accessing or using the Site or otherwise indicating your consent, you agree to be bound by these Terms and the documents referred to in them.

If you do not agree with or accept any of these Terms, you should stop using the Site immediately.

If you have any questions about the Site, please contact us by e-mail to info@testevolve.co.uk
Definitions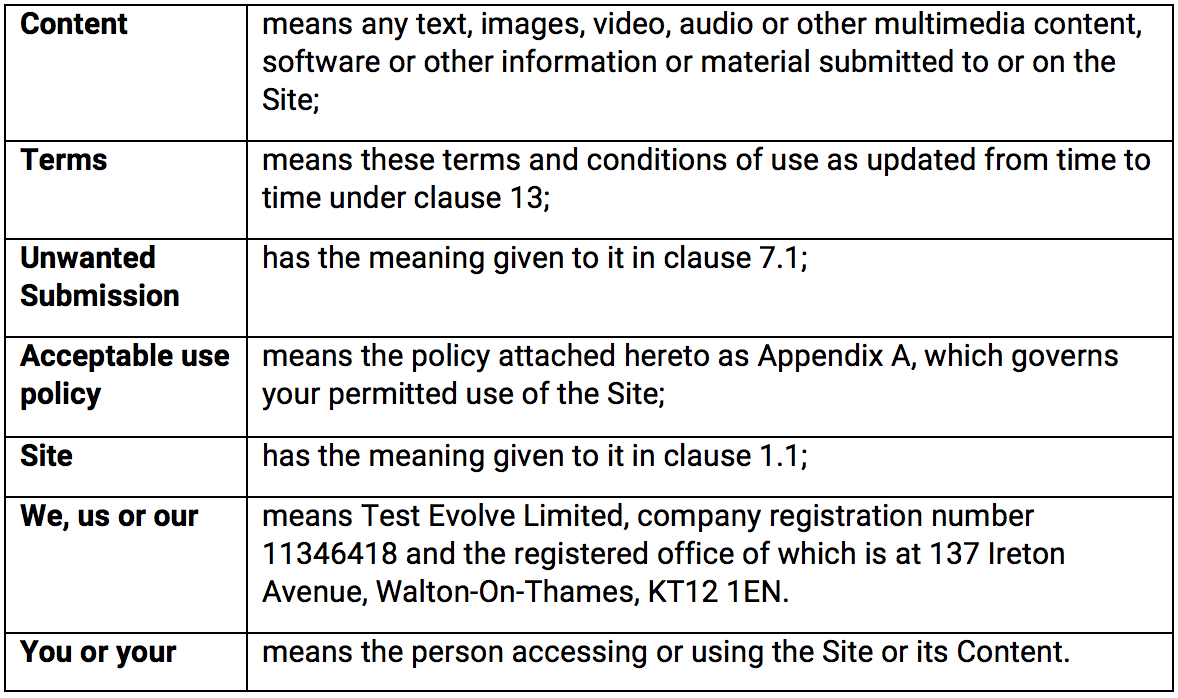 Acceptable use policy
By accessing this site, you agree to adhere to our Acceptable use policy appended to these Terms.
Using the Site
The Site is for your use only.

You agree that you are solely responsible for:

all costs and expenses you may incur in relation to your use of the Site; and

keeping your password and other account details confidential.

The Site is intended for use only by those who can access it from within the UK and United States. If you choose to access the Site from locations outside the UK, you are responsible for compliance with local laws where they are applicable.

We seek to make the Site as accessible as possible. If you have any difficulties using the Site, please contact us at

info@testevolve.co.uk

We may prevent or suspend your access to the Site if you do not comply with any part of these Terms, any terms or policies to which

they refer or any applicable law
Your privacy and personal information
Your privacy and personal information are important to us. Any personal information that you provide to us will be dealt with in line with our privacy policy, which explains what personal information we collect from you, how and why we collect, store, use and share such information, your rights in relation to your personal information and how to contact us and supervisory authorities in the event you have a query or complaint about the use of your personal information.
Ownership, use and intellectual property rights
This Site and all intellectual property rights in it including but not limited to any Content are owned by us. Intellectual property rights mean rights such as: copyright, trademarks, domain names, design rights, database rights, patents and all other intellectual property rights of any kind whether or not they are registered or unregistered (anywhere in the world). We and our licensors reserve all of our and their rights in any intellectual property in connection with these Terms. This means, for example, that we and they remain owners of them and free to use them as we and they

see fit.

Nothing in these Terms grants you any legal rights in the Site other than as necessary to enable you to access the Site. You agree not to adjust to try to circumvent or delete any notices contained on the Site (including any intellectual property notices) and in particular in any digital rights or other security technology embedded or contained within the Site.
Submitting information on the site
While we try to make sure that the Site is secure, we cannot guarantee the security of any information that you supply to us and therefore we cannot guarantee that it will be kept confidential. For that reason, you should not let us have any patentable ideas or patent applications, advertising or marketing suggestions, prototypes, or any other information that you regard as confidential, commercially sensitive or valuable (

Unwanted Submissions

). While we value your feedback, you agree not to submit any Unwanted Submissions.

We may use any Unwanted Submissions as we see reasonably fit on a free-of-charge basis (bear in mind that we have no way of knowing whether such information is confidential, commercially sensitive or valuable because we do not monitor the Site to check for these matters). Therefore, we will not be legally responsible for keeping any Unwanted Submissions confidential nor will we be legally responsible to you or anybody else for any use of such Unwanted Submissions.
Accuracy of information and availability of the Site
While we try to make sure that the Site is accurate, up-to-date and free from bugs, we cannot promise that it will be. Furthermore, we cannot promise that the Site will be fit or suitable for any purpose. Any reliance that you may place on the information on this Site is at your own risk.

We may suspend or terminate operation of the Site at any time as we see fit.

Content is provided for your general information purposes only and to inform you about us and our products and news, features, services and other websites that may be of interest. It does not constitute technical, financial or legal advice or any other type of advice and should not be relied on for any purposes.

While we try to make sure that the Site is available for your use, we do not promise that the Site is available at all times nor do we promise the uninterrupted use by you of the Site.
Hyperlinks and third-party sites
The Site may contain hyperlinks or references to third-party websites other than the Site. Any such hyperlinks or references are provided for your convenience only. We have no control over third party websites and accept no legal responsibility for any content, material or information contained in them. The display of any hyperlink and reference to any third-party website does not mean that we endorse that third party's website, products or services. Your use of a third-party site may be governed by the terms and conditions of that third-party site.
Limitation on our liability
Except for any legal responsibility that we cannot exclude in law (such as for death or personal injury), we are not legally responsible for any:

we're not foreseeable to you and us when these Terms were formed; or

that were not caused by any breach on our part

losses that:

business losses; and

losses to non-consumers.
Events beyond our control
We shall have no liability to you for any breach of these Terms caused by any event or circumstance beyond our reasonable control including, but not limited to, strikes, lock-outs or other industrial disputes; breakdown of systems or network access; or flood, fire, explosion or accident.
Rights of third parties
No one other than a party to these Terms has any right to enforce any of these Terms.
Variation
No changes to these Terms are valid or have any effect unless agreed by us in writing. We reserve the right to vary these Terms from time to time. Our updated terms will be displayed on the Site and by continuing to use and access the Site following such changes, you agree to be bound by any variation made by us. It is your responsibility to check these Terms from time to time to verify such variations.
Disputes
We will try to resolve any disputes with you quickly and efficiently.

If you are unhappy with us, please contact us as soon as possible.

If you and we cannot resolve a dispute using our complaint handling procedure, we will:

let you know that we cannot settle the dispute with you; and

give you certain information required by law about our alternative dispute resolution provider.

If you want to take court proceedings, the relevant courts of the United Kingdom will have exclusive jurisdiction in relation to these Terms.

Relevant United Kingdom law will apply to these Terms.


Appendix A : Acceptable Use Policy
Acceptable use
We permit you to use the Site only for personal, purposes and primarily for accessing information about us. Use of the Site in any other way, including in contravention of any restriction on use set out in this Policy, is not permitted. If you do not agree with the terms of this Policy, you may not use the Site.
Restrictions on use
As a condition of your use of the Site, you agree:

not to use the Site for any purpose that is unlawful under any applicable law or prohibited by this Policy or our website terms and conditions of use;

not to use the Site to commit any act of fraud;

not to use the Site to distribute viruses or malware or other similar harmful software code;

not to use the Site for purposes of promoting unsolicited advertising or sending spam;

not to use the Site to simulate communications from us or another service or entity in order to collect identity information, authentication credentials, or other information ('phishing');

not to use the Site in any manner that disrupts the operation of our Site or business or the website or business of any other entity;

not to use the Site in any manner that harms minors;

not to promote any unlawful activity;

not to represent or suggest that we endorse any other business, product or service unless we have separately agreed to do so in writing;

not to use the Site to gain unauthorised access to or use of computers, data, systems, accounts or networks;

not to attempt to circumvent password or user authentication methods; and

to comply with the provisions relating to our intellectual property rights and software contained in our General website terms and conditions of use.
Using the Test Evolve name and logo
You may not use our trade marks, logos or trade names except in accordance with this Policy and our general website terms and conditions of use. Where we give permission to use our trade marks, logos or trade names, you shall do so only in accordance with our brand guidelines.
Privacy Policy
We ask that you read this privacy policy carefully as it contains important information on who we are, how and why we collect, store, use and share personal information, your rights in relation to your personal information and on how to contact us and supervisory authorities in the event you have a complaint.
Who we are
Test Evolve Limited ("TE", "we", "our") are one of the thought leaders in agile automated testing.
TE collects, uses and is responsible for certain personal information about you. When we do so we are regulated under the General Data Protection Regulation which applies across the European Union (including in the United Kingdom) and we are responsible as 'controller' of that personal information for the purposes of those laws.
The personal information we collect and use
We collect personal information about you when you access our website and/or contact us.
We collect this personal information from you either directly, such as when you contact us or indirectly, such as your browsing activity while on our website (see 'Cookies' below).
The personal information we collect about you depends on the particular activities you carry out on our website. Such information includes:
your name, address and contact details provided by you on our

contact form

details of any feedback you give us by phone, email, post or via social media

information about the services we provide to you
We use this personal information to:
customise our website and its content to your particular preferences

notify you of any changes to our website or to our services that may affect you

improve our services

provide you with any feedback you request.
Our website is not intended for use by children and we do not knowingly collect or use personal information relating to children.
Who we share your personal information with
We will not share your data with any third-party companies to fulfil the purposes listed above. Some of our systems are cloud based and may be based outside the European Economic Area — for further information including on how we safeguard your personal data when this occurs, see 'Transfer of your information out of the EEA'.
We will share personal information with law enforcement or other authorities if required by applicable law.
We will not sell your personal information to any third party.
How long your personal information will be kept
We will hold your contact details provided to contact you via email, telephone or text in for 3 years (unless you notify us that you wish to stop receiving any communications from us) or longer if we have commercial agreements in place or on-going commercial discussions. Please send any such requests to our Security Team using the contact details provided in the 'How to Contact Us' section of this Privacy Policy below.
Reasons we can collect and use your personal information
We rely on the legitimate interest ground as the lawful basis on which we collect and use your personal data. Our legitimate interest is to provide you with information relating to TE products and the ecommerce industry. TE have weighed this against your fundamental rights as an individual and are content that this is a proportionate use of your personal data.
You have the right to unsubscribe from any contact by selecting and unsubscribe option which is included in all communications.
Consequences of our use of your personal information
We may contact you in accordance with your preferences, by either phone or email, with any news and marketing regarding all services or products offered by TE.
Transfer of your information out of the EEA
We may transfer your personal information to the following which are located outside the European Economic Area (EEA):
Such countries do not have the same data protection laws as the United Kingdom and EEA. Whilst the European Commission has not given a formal decision that the USA provide an adequate level of data protection similar to those which apply in the United Kingdom and EEA, any transfer of your personal information will be subject to appropriate safeguards (as permitted under Article 46(5), of the General Data Protection Regulation that are designed to help safeguard your privacy rights and give you remedies in the unlikely event of a misuse of your personal information.
If you would like further information, please contact our Security Team as detailed in the 'Contact Us' section. We will not otherwise transfer your personal data outside of the EEA or to any organisation (or subordinate bodies) governed by public international law or which is set up under any agreement between two or more countries.
Your rights
Under the General Data Protection Regulation you have a number of important rights free of charge. In summary, those include rights to:
fair processing of information and transparency over how we use your use personal information
access to your personal information and to certain other supplementary information that this privacy policy is already designed to address
require us to correct any mistakes in your information which we hold
require the erasure of personal information concerning you in certain situations
receive the personal information concerning you which you have provided to us, in a structured, commonly used and machine-readable format and have the right to transmit those data to a third party in certain situations
object at any time to processing of personal information concerning you for direct marketing
object to decisions being taken by automated means which produce legal effects concerning you or similarly significantly affect you
object in certain other situations to our continued processing of your personal information
otherwise restrict our processing of your personal information in certain circumstances
For further information on each of those rights, including the circumstances in which they apply, see the Guidance from the UK Information Commissioner's Office (ICO) on individuals rights under the General Data Protection Regulation.
If you would like to exercise any of those rights, please:
email or write to our Security Team;
let us have enough information to identify you; and
let us know the information to which your request relates

.
If you would like to unsubscribe from any email newsletter you can also click on the 'unsubscribe' button at the bottom of the email newsletter. It may take up to 14 days for this to take place.
Keeping your personal information secure
We have appropriate security measures in place to prevent personal information from being accidentally lost or used or accessed in an unauthorised way. We limit access to your personal information to those who have a genuine business need to know it. Those processing your information will do so only in an authorised manner and are subject to a duty of confidentiality.
We also have procedures in place to deal with any suspected data security breach. We will notify you and any applicable regulator of a suspected data security breach where we are legally required to do so.
If you want detailed information from Get Safe Online on how to protect your information and your computers and devices against fraud, identity theft, viruses and many other online problems, please visit www.getsafeonline.org. Get Safe Online is supported by HM Government and leading businesses.
How to complain
We hope that our Security Team can resolve any query or concern you raise about our use of your information.
If however, this has not been the case, the General Data Protection Regulation also gives you right to lodge a complaint with a supervisory authority, in particular in the European Union (or European Economic Area) state where you work, normally live or where any alleged infringement of data protection laws occurred. The supervisory authority in the UK is the Information Commissioner who may be contacted at https://ico.org.uk/make-a-complaint/ or telephone: 0303 123 1113.
Changes to this privacy policy
This privacy policy was published on 27 March 2019.
We may change this privacy policy from time to time, when we do we will ensure you are aware of such changes when using our website.
How to contact us
Please contact our Security Team if you have any questions about this cookie policy or the information we hold about you. To do this, please send an email to security@e2x.co.uk or write to 20 St Thomas Street, London, SE1 9RS.

Cookie Policy
We ask that you read this cookie policy carefully as it contains important information on who we are and our use of cookies or similar technologies on our website. This policy should be read together with our (see our Privacy Policy) sets out how and why we collect, store, use and share personal information generally, as well as your rights in relation to your personal information and details of how to contact us and supervisory authorities in the event you have a complaint.
Who we are
Test Evolve Limited ("Test Evolve", "we", "our") are one of the thought leaders in agile automated testing.
Our website
This cookie policy only relates to your use of our website, testevolve.com
Throughout our website we may link to other websites owned and operated by certain trusted third parties who offer services that may be of interest to you. These other third-party websites may also use cookies or similar technologies in accordance with their own separate cookie polices. For privacy information relating to these other third-party websites, please consult their cookie policies as appropriate.
Cookies
A cookie is a small text file which is placed onto your device (e.g. computer, smartphone or other electronic device) when you use our website. We use cookies on our website. These help us recognise you and your device and store some information about your preferences or past actions.
For example, we may monitor how many times you visit the website, your language preferences, which pages you go to, traffic data, location data and the originating domain name of your internet service provider. This information helps us to build a profile of our users. Some of this data will be aggregated or statistical, which means that we will not be able to identify you individually.
You can set your browser not to accept cookies and the websites below tell you how to remove cookies from your browser. For further information on our use of cookies, including a detailed list of your information which we and others may collect through cookies, please see below.
Our use of cookies
We use cookies on this website to:
recognise you whenever you visit this website (this speeds up your access to the website as you do not have to log in each time);

obtain information about your preferences and use of our website;

carry out research and statistical analysis to help improve our content, and to help us better understand our users' requirements; and

target our marketing and advertising campaigns more effectively by providing interest-based advertisements that are personalised to your interests; and

make your online experience more efficient and enjoyable.
For further information on cookies generally visit www.aboutcookies.org or www.allaboutcookies.org.
Types of cookies
The cookies we place on your device fall into the following categories:
Session cookies

—these allow our website to link your actions during a particular browser session. These expire each time you close your browser and do not remain on your device afterwards

Persistent cookies

—these are stored on your device in between browser sessions. These allow your preferences or actions across our website to be remembered. These will remain on your device until they expire, or you delete them from your cache

Strictly necessary cookies

—these cookies are essential for you to be able to navigate our website and use its features. Without these cookies, the services you have asked for could not be provided

Performance cookies

—these cookies collect information about how you use our website, e.g. which pages you go to most often. These cookies do not collect personally identifiable information about you. All information collected by these cookies is aggregated and anonymous, and is only used to improve how our website works

Functionality cookies

—these cookies allow our website to remember the choices you make (such as your user name, language, last action and search preferences) and provide enhanced, more personal features. The information collected by these cookies is anonymous and cannot track your browsing activity on other websites
The cookies we use
The table below provides more information about the cookies we use and why:

Consent to use cookies
We will ask for your permission (consent) to place cookies or other similar technologies on your device, except where these are essential for us to provide you with a service that you have requested (e.g. to enable you to put items in your shopping basket and use our check-out process).
There is a notice on our home page which describes how we use cookies and requests your consent to place cookies on your device.
How to turn off cookies
If you do not want to accept cookies, you can change your browser settings so that cookies are not accepted. If you do this, please be aware that you may lose some of the functionality of this website. For further information about cookies and how to disable them please go to the Information Commissioner's webpage on cookies: https://ico.org.uk/for-the-public/online/cookies/.
How to contact us
Please contact our Security Team if you have any questions about this cookie policy or the information we hold about you. To do this, please send an email to security@e2x.co.uk or write to 20 St Thomas Street, London, SE1 9RS.
Do you need extra help?
If you would like this notice in another format (for example: audio, large print, braille) please contact us (see 'How to contact us' above).
Changes to this policy
This policy was published on 27 March 2019.
We may change this policy from time to time, when we do we will update our cookie policy to ensure you are aware of such changes when using our website.