OMNICHANNEL TEST AUTOMATION #NRF2020
Drop by Booth 438 at NRF 2020 and we'll be talking best practice omnichannel test automation with our new Test Evolve app and real time cloud reporting. For ecommerce and retail test automation, Test Evolve provides everything you need.
Read More
Why choose Test Evolve?
Test Evolve is the Agile Automated Testing Framework used by some of the world's biggest brands.
Test Evolve can significantly reduce cost whilst massively improving business visibility of site quality.
Cutting costs through the reduction of manual regression testing and increased effectiveness of the test team, speeding up agile delivery.
Test Evolve delivers easily maintainable automated regression test code, reducing the time necessary to deliver effective in sprint testing
Full regression testing on a mid-large size ecommerce site typically takes a team of three people, two days to execute. Test Evolve can reduce this to a typical two hour test run.
The key benefit here is the ability to free your test team from manual regression, increasing time spent on heuristic exploratory testing where most critical site defects will be discovered
Provides faster feedback loops between Development and Test
Increased regression and exploratory test coverage enable well informed and risk based decision making by the product owner at Go, No-Go sessions
Test Evolve will work with your Business Analysts, Product Owners and Developers to ensure requirements and acceptance criteria are captured in a mutually agreeable format to drive development and the creation of acceptance tests and living documentation. Continuously passing tests provide you with a living specification of the application under test.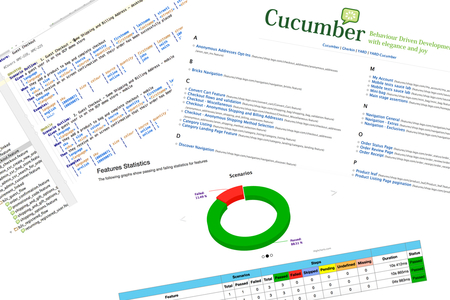 Develop automated tests for your mobile or web applications
Flexible and extensible automation framework built to test desktop and mobile browser applications and web service layers (APIs – REST, SOAP)
Integrates perfectly with your existing CI/CD processes and infrastructure
Provides Real-Time dashboards and granular debug reporting
Enables cross-device and cross-browser testing and integration with 3rd party vendors (Perfecto, Sauce Labs, Browserstack, Applitools Eyes)
Immediate conversion of a behaviour driven requirement into an automated acceptance test, implemented with a hybrid keyword and data driven code approach
Reuse of front end test flows for creation of performance testing scripts
Provision of living documentation for the web application under test
Transition a team of manual testers into a competent automation team – enable a truly agile testing vision
Test Team and Business Benefits
Progress a team of manual testers to a competent automation team inside of a month
Make a smoother testing transition to a fully agile delivery model enabling in sprint agile automation
Build increasingly collaborative relationships and conversations to drive requirements and acceptance tests with product stakeholders
Provide direct traceability from requirement to automated test
Reduce testing costs by increasing test team effectiveness – more exploratory test focus
Reduce application time to market by enabling full in sprint testing with all required automation
Dramatically reduce regression execution cycles Typical E Commerce Manual – Team of 3, 2-3 days Automation run with full coverage – 2-3 hours